Shop Online
Search for products or browse using the category selections below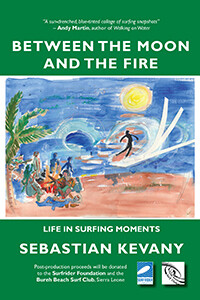 Between the Moon and the Fire: Life in Surfing Moments by Sebastian Kevany
TMP0044
Product Details
Between the Moon and the Fire: Life in Surfing Moments by Sebastian Kevany
A sun-drenched, blue-tinted collage of surfing snapshots" – Andy Martin, author of Walking on Water
Why do surfers ride waves? Surprisingly, it is not always just for the thrill or the excitement: at a deeper level, surfing can imprint itself on consciousness, feeding the wave rider with intense images and sensations – thereby generating moments in memory that last a lifetime, via the ocean's mirror.
In Between the Moon and the Fire, Sebastian Kevany describes more than one hundred moments of wave-riding around and across the globe, from Ireland to Indonesia. He explores each episode to identify exactly what made it stand out and endure: what was the unique combination of circumstances and events that brought the surfer to that moment – often, just a few seconds long – in that time and place?
From parties to partners-in-crime, from health to habit and from espliegerie to esprit de corps, there is always a back story. In answering those questions, Between the Moon and the Fire also explores universal themes familiar to both wave-riders and non-surfers alike: curiosity and camaraderie; adventure and escape; progress and identity.
Sebastian Kevany has surfed for more than twenty years in California, Ireland, Hawaii, South Africa, Indonesia, Tanzania, Australia, Portugal and Sierra Leone. He has contributed to The Surfer's Journal and Zig Zag surfing magazine, and has also published academic articles. He lives in Ireland and the USA.
Between the Moon and the Fire: Life in Surfing Moments by Sebastian Kevany
Non-fiction, sport and recreation, surfing, travelogue, memoir
218 printed pages. Paperback
First published in Ireland, in 2020, under the imprint of The Manuscript Publisher
ISBN: 978-1-911442-32-5
Also Available in e-Book Editions
A Kindle compatible edition of this e-book will soon be available on Amazon and Amazon UK, along with other Amazon domains.
Kindle books are suitable for reading on all Kindle devices as well as Kindle Apps, which are free to download to your phone, laptop, tablet, PC, etc.
Kindle devices are available to purchase online from Amazon and Amazon UK, along with other Amazon domains.
Other e-Book Formats
Please visit Smashwords for further information about other common e-book formats including:
ePub - suitable for Apple iPad/iBooks, Nook, Sony Reader, Kobo, and most e-reading apps including Stanza, Aldiko, Adobe Digital Editions
Mobi - Kindle compatible (see above)
PDF - suitable for reading directly from on your PC or laptop using Adobe Reader
Also available in ePub format from Apple (iTunes), Barnes & Noble, Kobo
Proceeds from sales of this book will benefit the Surfrider Foundation and the Bureh Beach Surf Club, Sierra Leone
Reviews for this Book
An amazing ride on the waves of life!

This is a wonderful book! Kevany's transparency, vulnerability, and unvarnished self-assessments make Between the Moon and the Fire more than just a series of surfing adventures; as with his Fever in the Jungle, this book is a compelling montage of multiple literary genres. And in a haunting parallel to FITJ, Kevany adroitly encapsulates the challenges and rewards of encountering and embedding oneself in diverse cultures. His rich, poetic voice perfectly supports his reflective, insightful explorations into the experiences and cultures of surfing. He describes both the unique features and the common aspects of each episode with a rhythmic pulsing that echoes the waves breaking on the shore. Even as a non-surfer, I was completely entranced by his almost melodic recounting of his surfing escapades; surfing aficionados will certainly find even more in them to love. – A Northwest Reader (5 out of 5 stars on Amazon)
Further reviews
Browse the online edition (sample chapters) to read Good Vibes for Between the Moon and the Fire
Save this product for later