Shop Online
Search for products or browse using the category selections below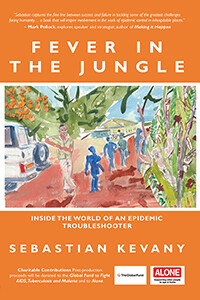 Fever in the Jungle: Inside the World of an Epidemic Troubleshooter by Sebastian Kevany
TMP0045
Product Details
Fever in the Jungle: Inside the World of an Epidemic Troubleshooter by Sebastian Kevany
This splendid book reminds me of my own experiences, travelling in various places of the world more than sixty years ago. Hopefully, as is suggested herein, things are changing. I wish Bassie the best of fortune in the splendid work he does. – Peter Somerville-Large, author of To the Navel of the World: Yaks and Unheroic Travels in Nepal and Tibet
What is life really like amidst the global battle against epidemics and infectious diseases? In Fever in the Jungle, Sebastian Kevany draws on his experiences of more than one hundred treatment, prevention and outbreak missions, in some of the most remote corners of the world. Amidst the fight against HIV/AIDS, tuberculosis, malaria and Ebola, he takes us out of hotel room bubbles and, not just off the beaten track but, to the places where there are no tracks at all.
Fever in the Jungle describes, in vivid detail, the successes and defeats of a field epidemiologist, troubleshooter, liaison, barefoot diplomat and jack-of-all-trades. From rattling convoys and ramshackle malaria clinics in South Sudan, to air-conditioned meetings with government officials in Sierra Leone – with a few full-moon parties along the way – this is a window into the often bizarre challenges, places and adventures that make up an occasionally chaotic, often unpredictable yet, always fulfilling existence.
Sebastian captures the fine line between success and failure in tackling some of the greatest challenges facing humanity… a book that will inspire involvement in the work of epidemic control in inhospitable places. – Mark Pollock, explorer, speaker and strategist; author of Making it Happen
Sebastian Kevany has worked in the Middle East, the South Pacific, Eastern Europe and Asia, focusing on epidemic and infectious disease control and response, monitoring and evaluation, health security, international relations, human rights, conflict resolution, diplomacy and international relations.
Fever in the Jungle: Inside the World of an Epidemic Troubleshooter by Sebastian Kevany
Non-fiction, public health, epidemiology, travelogue
258 printed pages. Paperback.
First published in Ireland, in 2021, under the imprint of The Manuscript Publisher
ISBN: 978-1-911442-33-2
Also Available in e-Book Editions
A Kindle compatible edition of this e-book is available on Amazon and Amazon UK, along with other Amazon domains.
Kindle books are suitable for reading on all Kindle devices as well as Kindle Apps, which are free to download to your phone, laptop, tablet, PC, etc.
Kindle devices are available to purchase online from Amazon and Amazon UK, along with other Amazon domains.
Other e-Book Formats
Please visit Smashwords for further information about other common e-book formats including:
ePub - suitable for Apple iPad/iBooks, Nook, Sony Reader, Kobo, and most e-reading apps including Stanza, Aldiko, Adobe Digital Editions
Mobi - Kindle compatible (see above)
PDF - suitable for reading directly from on your PC or laptop using Adobe Reader
Also available in ePub format from Apple (iTunes), Barnes & Noble, Kobo
Proceeds from sales of this book will benefit Alone and the Global Fund to Fight AIDS, Tuberculosis and Malaria
Reviews for this Book
Entertaining & enlightening!
Kevany's rich, lyrical prose makes each page of Fever in the Jungle a treat to peruse. Simultaneously a medical maverick memoir, an entrancing travelogue, and a reflection on human relationships, the book defies simple categorization. An excellent story-teller who vividly brings diverse characters to life, he leads the reader on a romping exploration of how people meet, interact, and learn from one another. He captures the ambience of the locale - from African metropolis to remote tropical island - succinctly and evocatively. With a diffident style, Kevany acquaints the reader with both his serious, vital work in ensuring that epidemic programs are working effectively, while recounting pub parties that last through the night. This is a 'must read' book for all with interest in travel, medicine, or philosophy. I can't wait to read his book on surfing! – A Northwest Reader (5 stars out of 5 on Amazon)
Further Reviews
Browse the Online Edition (sample chapters) to read Praise for Fever in the Jungle
Save this product for later