Shop Online
Search for products or browse using the category selections below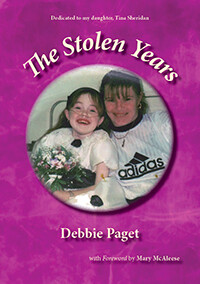 The Stolen Years by Debbie Paget
TMP0040
Product Details
The Stolen Years by Debbie Paget
with Foreword by Mary McAleese
This is the story of Debbie, a woman born into a family of fifteen children in Dublin, in the 1960s. Her story takes us through earliest memories: from a very difficult childhood in the family home, amusing tales concerning neighbours and friends, her days in homeless hostels, school days, family tragedies, abuse, neglect and the birth of her children.
Death, life and love are intertwined in this unique story: from the death of Debbie's brothers to the especially sad and untimely death of her darling daughter and first baby girl, Tina, aged just eight years. Tina's short life was one of remarkable courage, strength and laughter in the face of tragedy. "She had a wisdom born of suffering and a boundless faith in miracles."
Today, Debbie finds great comfort and solace in the spiritual world, where she keeps regular contact with Tina.
This book reveals a fighting spirit and a keen understanding of life in the face of adversity. It is a story that will serve as an inspiration to anyone who faces hardship and death. Strength of character and great wisdom illuminate each page. Debbie is a survivor and her story will amaze, stun, sadden and inspire all who read it.
Although Debbie often had to endure the absence of love at crucial times in her life, she is such a loving person and she understands that love is at the core of life. Even through death and sadness, love conquers all.
The Stolen Years by Debbie Paget
Non-fiction, autobiography, memoir, personal history and true account, grief counselling
162 printed pages. Paperback.
First published in Ireland, in 2020, by The Manuscript Publisher
ISBN: 978-1-911442-27-1
Also Available in e-Book Editions
A Kindle compatible edition of this e-book is available on Amazon and Amazon UK, along with other Amazon domains.
Kindle books are suitable for reading on all Kindle devices as well as Kindle Apps, which are free to download to your phone, laptop, tablet, PC, etc.
Kindle devices are available to purchase online from Amazon and Amazon UK, along with other Amazon domains.
Other e-Book Formats
Please visit Smashwords for further information about other common e-book formats including:
ePub - suitable for Apple iPad/iBooks, Nook, Sony Reader, Kobo, and most e-reading apps including Stanza, Aldiko, Adobe Digital Editions
Mobi - Kindle compatible (see above)
PDF - suitable for reading directly from on your PC or laptop using Adobe Reader
Also available in ePub format from Apple (iTunes), Barnes & Noble, Kobo
Also available in digital subscription format on Scribd
Reviews for this Book
"Debbie tells of her upbringing how she has has to accept heartache from a very early start. A story of Love loss and finding peace. Beautiful read." – Audrey (on Amazon)
Save this product for later